Tomales Bay Watershed
Long-Term Water Quality
Trends monitoring will generate water quality data of sufficient duration and representation to assess long-term shifts in water quality within Tomales Bay and its tributaries. Since 2007, the TBWC has been monitoring year-round water quality at fifteen sites throughout the Tomales Bay watershed and in the Bay itself. This program was funded through grant funds, and funded currently through the support of our Adopt Our Watershed Sponsors who help fund monitoring at long-term sub-watershed sites on a year-by-year basis. Find out how YOU can become a sponsor, HERE.
There are numerous stakeholder efforts to manage sources of pollution for which feedback is needed to assess impacts and the effectiveness of restoration efforts. This component of the monitoring program will give the watershed community the needed benchmarks to determine the success of management efforts and efficacy of regulatory policies. The program has proven an effective and sound source of scientific information to help guide resource management decisions in our watershed.
Monitoring has focused on those pollutants for which the Bay or its' tributaries are listed as impaired (Pathogens, sediment and nutrients) as well as field measurements.
For selected results from a particular site, use the map below and the Trends Monitoring Site list.
Sampling Information
The water-quality parameters of interest for the long-term Trends Monitoring include field parameters: temperature, conductivity/salinity, dissolved oxygen and pH; and lab parameters: fecal indicator bacteria; nutrient parameters; and sediment parameters.
From 2007-September 2012 Trend sampling was conducted on a weekly basis during the rainy season (late Fall, Winter and early Spring), and twice monthly during summer base flow conditions. Moving forward in the 2013 and 2014 water-years, we have been collecting one monthly sample, plus three storms each year, with increased frequency dependent on program funding. This regular sampling is supplemented by continuous temperature data from long-term sites to analyze diurnal and seasonal variation.
The level of sample collection will afford documentation of seasonal and annual changes in water quality. It will also allow for the development of geometric means, which is a common way to display and analyze bacteria results (see Glossary). This program component collected high intensity monitoring data for five years from 2007-2012, and will seek to continue at least monthly monitoring for the next 10-20 years.
Sampling Locations
A. Tomales Bay sampling locations: Sampling locations include four bay sites to represent areas of major impact from freshwater inputs, as well as tidal conditions and separation of the Bay. These four Tomales Bay sites represent the outer, middle, inner bay, and "inner"-inner bay (the wetland/bay interface).
B. Watershed sampling locations: Eleven permanent tributary sampling locations have been established. These sites are coordinated with the four existing gauging stations on large tributaries (mainstem Lagunitas, Olema, Walker, and San Geronimo); East and west shore sites include sites with human land use activities, and at least one reference stream that flows through sub-watersheds with minimal human land use activities.
For more detailed program description and documentation, see TBWC Water Quality Publications and Reports in our electronic library.
Trend Monitoring Sites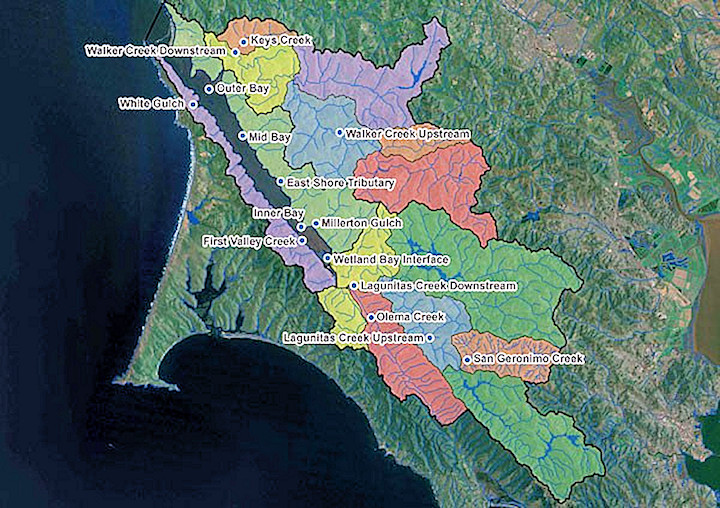 Keys Creek
Walker Creek-Downstream
Walker Creek-Upstream
East Shore Reference Tributary
Millerton Creek
Outer Bay
Mid-Bay
Inner Bay
Wetland/Bay Interface
First Valley Creek
White Gulch
Olema Creek
Lagunitas Creek-Downstream
Lagunitas Creek-Upstream
San Geronimo Creek
Trends Monitoring
Keys Creek
Recent sampling results from the Trends program. Only selected parameters are reported, including: water temperature, salinity, and fecal coliform bacteria, and all data should be considered preliminary and is subject to review and revision by the TBWC.
Please refer to Glossary for definitions and more background on water quality tests and criteria.