Tomales Bay Watershed Species of Local Interest
In 2011, the Tomales Bay Watershed SOLI, or Tomales Bay Watershed Species of Local Interest, Native and Non-native Species of Conservation or Management Concern, was completed by Tom Gardali, John Kelly, Jules Evens, other local experts, and additional members of the Tomales Bay Watershed Council after many years of consideration, discussion and much persistence.
We defined Species of Local Interest as native or non-native taxa considered to have special importance in the conservation or management of the Tomales Bay watershed. Species may qualify for inclusion on the SOLI list only if they occur in the watershed in a primary role, as year-round, breeding-season, or winter-season residents; transient species are excluded.
The purpose of the SOLI list is to provide a means for prioritizing activities for the protection and restoration of particular native species and habitat complexes in the watershed, including the management and control of invasive pest species. Due to inherent differences in these two goals we have divided the SOLI list in two:
Species of Local Concern: native taxa that warrant special research, monitoring, management, or habitat enhancement
Local Ecological Pest Species: native and non-native ecological pest species that threaten native plant and animal communities or are likely to result in significantly negative socio-economic impacts.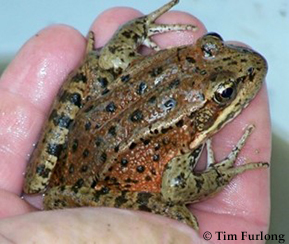 Wetland habitats identified as highest priority areas…
In the end, we identified and prioritized 371 species as Species of Local Interest. Of these, 205 are Species of Local Concern and 166 are Local Ecological Pest Species. The combined habitat affiliations of Priority and High Priority species indicate the predominant importance of wetland habitat types across the combined lists of Species of Local Interest. Thus, stewardship actions in wetland habitats are likely to target the greatest number of SOLI, leading to both the protection of Species of Local Concern and the reduction of threats imposed by Local Ecological Pest Species.
Future utility…
Our intention is that the list will be used by researchers, policy makers, conservation planners and practitioners including government and non-government organizations. Specifically, the SOLI list will help to promote and facilitate the creation of monitoring, research, and management activities, and to substantiate or inform associated proposals for funding.
We present the resulting SOLI list and the full report here, emphasizing that this is a dynamic list to be managed by the Council.  This list is subject to ongoing revision as we improve our understanding of the local status of species in the Tomales Bay watershed.