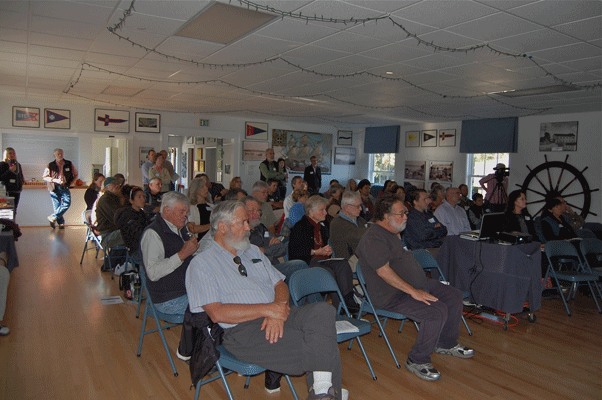 The Tomales Bay Watershed Council is committed to continued public outreach and education about Tomales Bay and its watershed to enhance people's connection to their watershed. We pursue this mission through engagement with local residents, visitors, resource managers, policy makers, non-profits, teachers, school children and community groups.
The Tomales Bay watershed comprises a diverse community of private and public landowners, villages and residents from the slopes of Mount Tamalpais to the town of Tomales and eastward to Chileno Valley. By working together with an expanded sense of community, we can protect the aquatic and terrestrial habitats that are essential to Tomales Bay as well as preserving the culture and heritage of the region.
Working with our partners, we will promotes watershed education and outreach in order to:
• Encourage public awareness and participation in developing and implementing the Tomales Bay Watershed Stewardship Plan.
• Increase public awareness of priority watershed issues.
• Increase public awareness about efforts to reduce nonpoint source pollution.
• Increase public awareness about opportunities to support and assist with
endeavors to protect the bay and watershed.
• Support watershed education in local schools.
• Promote volunteer efforts.
• Promote watershed stewardship.
Ongoing Activities:
To date, the Council has developed and distributed seven editions of the Watershed Bulletin to all post office box holders in the region.
Our electronic newsletter is a great way to stay up to date with emerging issues, current water quality conditions and diverse information related to the stewardship of the Tomales Bay watershed. Join our eNews mailing list.
The TBWC hosted the 2010, 2012 and 2016 State of the Bay Conferences convening researchers and the public alike, to learn about and discuss priority issues facing Tomales Bay and its watershed.  Learn about past conferences, see presentations and view video of the 2010 State of the Bay Conference.
The Council hosts semi-annual public meetings to gather Council Members and other stakeholders to discuss current issues and participates in local and regional meetings to promote stewardship of Tomales Bay and its watershed.
We work with partners at the Point Reyes National Seashore Association and Artists in the Schools Program to bring watershed education to our local schools and continue to seek out opportunities to connect people to their watersheds.
Join us for the annual Bay Cleanup day to help keep our watershed healthy and beautiful!