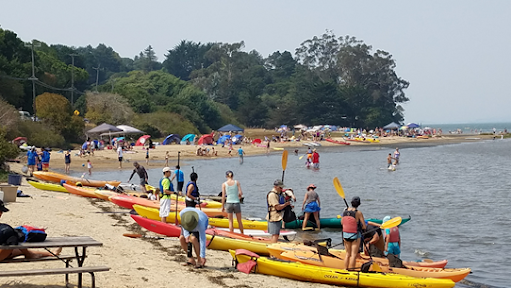 RESTORING CHICKEN RANCH BEACH WETLANDS
Read a brief summary of this project here
In late 2022 the California Coastal Conservancy awarded TBF funds for the planning and permitting of the Chicken Ranch Beach Wetland Enhancement and Contamination Reduction Project. Planning is now underway administered by PCI, an engineering firm in Sebastopol.
Chicken Ranch Beach is a very popular County Park located north of the village of Inverness.  Over the years the beach has experienced bacterial contamination from a stagnant ditch (Channel B) entering from property located to the west.  There is no obvious source of the contamination but water testing continues to show bacteria levels which consistently exceed the Department of Public Health standards for swimming.  
Although most of Channel B is fenced off, in the summer its water becomes very scummy and unappealing. A sign at the downstream end of Channel B at the beach warns of possible contamination. Alternative projects to address this contamination have been in under consideration for a number of years but to date no project has been implemented.
Over the last decade, the Tomales Bay Watershed Council Foundation has been working with partners in the community, private land owners, the County of Marin's Department of Parks and Open Space, and the State Lands Commission to develop project goals for improving the water quality in Channel; B as it enters Chicken Ranch Beach.
A 2013 study entitled "Restoration Feasibility and Conceptual Design Report Third Valley Creek and Chicken Ranch Beach Inverness, California" prepared by Kamman Hydrology and Engineering, Inc. and funded by the Coastal Conservancy evaluated various alternatives for restoration of the Third Valley Creek and Chicken Ranch Beach habitat and from Channel B.
In 2021 the TBWF, Marin County and Kamman Hydrology completed the 30% design study focused on reducing of the bacterial contamination Channel B by constructing a wetland and restoring the habitat on the adjacent one acre State Lands parcel. Channel B would also be filled in and the wetlands would connect the upstream end of Channel B to Third Valley Creek, discharging near the pedestrian bridge. Included in this project will be the removal of the invasive acacia trees.
The current project has a great deal of community support as well as support by our area's county supervisor Dennis Rodoni. The Tomales Bay Watershed Foundation is actively pursuing funding and expertise for permitting implementation of this important project. If you want to become involved in this next phase, or contribute to the effort, please email Tom Gaman or Ed Nute at foundation@tomalesbaywatershed.org .